Overview of DMO
Updated date : 12.30.2019
Mission
"To procure the needs of public institutions and organizations with an effective, efficient, professional and innovative approach, preserving public interest, balancing price and quality."
Vision
"To become an institution primarily preferred in the field of public procurement and among the leading central procurement bodies on the international scale with the innovative solutions and applications it has developed."
Basic Virtues
Transparency/clarity
Expertise in the procurement of goods and services
Quality service
Credibility and prestige
Effectiveness and efficiency
Focus on the buyer
Continuous improvement
Participation
To be the leader and pioneer on the subjects concerned with the scope of duties
Innovativeness and creativity
Participation
History
As there were no regulations for the supply of stationery and other needs of public institutions since the proclamation of the Republic until 1926, every public organization used to supply the goods that they needed via open market purchases in accordance with their budgetary constraints. The primary step in this regard has been taken by the foundation of "Chief Office for Stationery" (Kırtasiye Baş Memurluğu) under the supervision of the Ministry of Finance (MoF) in 1926. The institution, which served during following years under the names of "Directorate of Stationery" (Kırtasiye Müdürlüğü) and "State General Directorate for Paper and Printing" (SGDPP) (Devlet Kâğıt ve Basım Genel Müdürlüğü), was restructured considering its increasing functions.
The economic savings of the SGDPP, due to its supply of paper, cardboard, stationery and other office equipment for public organizations by single hand, with bulk purchases and at reasonable prices urged this institution to be organized more independently. Thus, by the Law regarding the foundation of the State Supply Office (DMO) (dtd.10.03.1954/no.6400), it was established as a state-owned enterprise linked to MoF, autonomous in its activities, having a capital of 100 million TL, its own legal personality and limited responsibility with its capital in its field of activity. It was also excluded from the practices of General Accounting Law and Public Procurement Law and the supervision of the Court of Accounts.
In the context of the Law no. 2929 (put into force in 1983), which was related with State Economic Enterprises (SEEs), with the Decree Law no. 121 (put into force on 28.10.1983/Official Gazette no. 18205) regarding the foundation of DMO, which denounced Law no. 6400, law regarding the foundation of DMO and with Decree Law no. 233 (put into force on 08.06.1984) the legal framework of SEEs were redefined. Consequently, "The Main Status of DMO", which was prepared in accordance with Decree Law no. 233, was put into force upon being published in the Official Gazette no. 18559/dtd. 28.10.1984. However, in 2007, a new "Main Status" was prepared and put into force upon being published in the Official Gazette dtd. 04.03.2007. The article 35 of this new Main Status abolished the previous one.
Corporate Structure
The State Supply Office General Directorate (DMO), an affiliate organization of the Ministry of Treasury and Finance, is a public economic enterprise with a legal entity, which is autonomous in its activities and whose liabilities are limited with its capital.
The headquarters of DMO General Directorate is located in Ankara. It conducts its activities through its central and provincial organizations. The provincial organization is composed of 7 Regional Directorates (İstanbul, İzmir, Bursa, Eskişehir, Trabzon, Gaziantep ve Elazığ), 4 contact offices (Diyarbakır, Erzurum, Mersin ve Van) and a Printing House Directorate, throughout the country.
The buyers are composed of public organizations that are subject to public law or under public supervision, or that use public funds. No sales is made for private sector as per the Main Status of DMO.
It is not mandatory for public organizations to buy from DMO. It is on a voluntary basis.
DMO has;

Fields of Activity
DMO procures below-mentioned product groups specified by its Main Status (please visit www.dmo.gov.tr to view details) for public organizations.
Computers, hardware & software
Furniture & furnishings
Office machinery
Stationery
Cleaning & Illumination supplies
Medical equipment & hospital furnishings
Office and industrial type white goods
School, dormitory and guesthouse supplies
Clothing and supplementary accessories
Transportation vehicles
Construction equipment
Special purpose vehicles
Motor vehicles
Charter services
DMO serves with over 26 thousand kinds of products, of which nearly 12 thousands are catalogue and stock products comprised by the product groups above.
Procurement Fundamentals
Our purchases are made in accordance with our own legislation for amounts below the exception threshold (10.369.344.-TL for the year 2018) while in accordance with the provisions of the Public Procurement Law no 4734 for amounts above the exception threshold.
DMO meets the supply needs of its buyers by 3 procurement methods (stock, catalogue and miscellaneous upon buyer demand) with its specialized personnel in a centralized, rapid and efficient way. The total amounts of sales made by using these methods for the last 5 years are shown on the chart.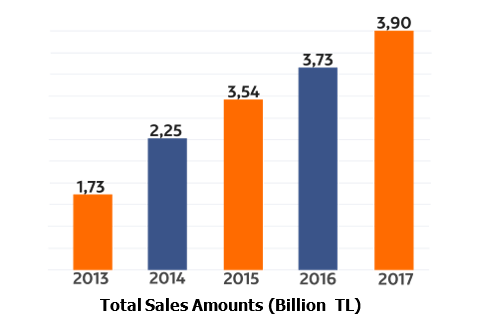 The E-Sales Portal
Providing central procurement services on behalf of public organizations and being the first to ever practice e-trade in the public sector, The State Supply Office serves its buyers and suppliers online with the e-sales portal (https://www.dmo.gov.tr/Esatis).
With the e-sales portal, easier and faster procurement is now possible. Members of the e-sales system can benefit from discounts up to %7 on catalogue products. Amounts of e-sales realized in the last 5 years by our General Directorate are shown on the chart.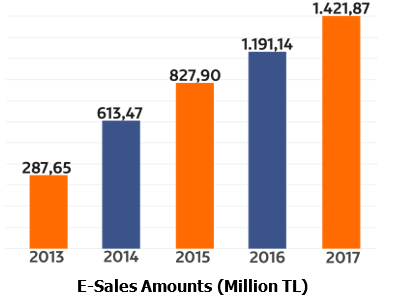 International Collaborations
The State Supply Office follows the best practices of public procurement in the world, collaborates and exchanges information with its peers and such international organizations as OECD/SIGMA.
In this context, a Memorandum of Understanding was signed with the South Korean central purchasing organization, Public Procurement Service (PPS), which is considered one of the best public procurement practitioner